This week has been full of lots and lots of crap weather. We had finally gotten a couple weeks of decent May-like weather, and then Mother Nature was all, "ENOUGH OF THAT!". And decided to hand us almost a straight WEEK of rain. We were actually supposed to do our maternity photos on Monday and that was nixed because of the disgusting weather. Luckily, we're working with and awesome photographer (
Honor Heindl
) who rescheduled with us right away and is getting us in June 10th. Hoping for the weather to turn around really soon. There is so much going on in June and I would be happy to do all of those without 23,234 days of rain. Please and thank you! Our Bradley classes are going great. We are about half way through them! We brought treats this week ( I sent our instructor the reciepe, so it's posted
here
on our Bradley class's blog ) & they were sooo good! It was honestly our first time making them, so I am really glad they turned out so well.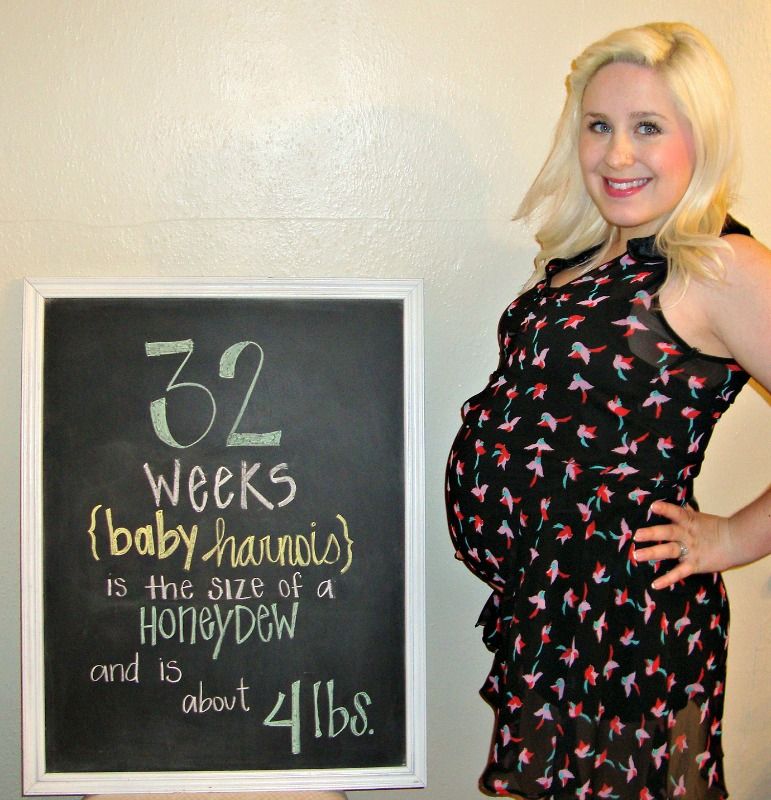 How big is baby? Baby Harnois is the size of a honeydew melon!

Baby is 15.2 to 16.7 inches big and 3 lbs to 4.5 lbs !

Baby girl is still head down! Her eyes close when sleeping and open when she is awake and she's getting a little cramped in there!


Sleep: I'm waking up a few times a night to pee. So, typical. The other night, though, I've went to bed around 7 and Andrew ended up waking me up at 7 am after he got out of the shower.

Best moment this week: Today I sat on the couch with Chewy watching the news before work and felt her wiggling around. I set my hand on my belly and found where she had her little knee poking out. So I would nudge against it with my hand and she'd push back against my hand and move her knee underneath my palm. We did this FOREVER. Eventually I stopped and about 30 seconds later my belly starts shaking side to side as Little Baby Harnois starts to rave in my tummy. Crazy girl!

Movement: Yes. I already love her wiggly self.
Food cravings: No cravings, but Andrew bought dinosaur chicken nuggets the other day from Target and they were realllly good. Hahaha.
.
Gender: Little Baby Harnois is a GIRL!
Labor Signs: None
Pregnancy Symptoms: Exhaustion, peeing a million times a day, a wonderful, ever growing baby bump.
Belly Button in or out? Out!

What I miss: I miss when shaving my legs didn't feel like a workout.
What I am looking forward to: Finishing wall art for the nursery. Forcing Andrew to find a place for the hideous giant TV and printer cart in her room. Meeting and snuggling her adorable little self.


Upcoming appointments/events: 34 week appointment is on June 5th & my sister is throwing me a shower on June 8th.
Weekly Wisdom: Rain is kinda stupid sometimes.
Milestones: I can already tell our daughter is going to be pretty awesome. Can I consider that my milestone?