So, as we all know, I always wait until the beginning of my next 'pregnancy week' to post about the previous. So, as of today, I am 32 weeks pregnant. Which means I now have 5 weeks until we are full term and only 8 weeks until our munchkin's due date. I can't even believe it. I keep telling her to stay in there and cook as long as possible but Andrew is so anxious to meet her. He keeps crossing his fingers that she comes early. I, on the other hand, am not! We have lots to do and she can keep growing in my belly! I haven't mentioned this before but ever since we started our Bradley class I've been reading Husband-Coached Childbirth and lately I've really been getting into it. I've kind of back tracked and highlighted some things. Andrew has been rereading the Ender's Game series because I haven't given up Husband-Coached Childbirth yet, but considering he's the husband and my 'coach' I suppose I should share.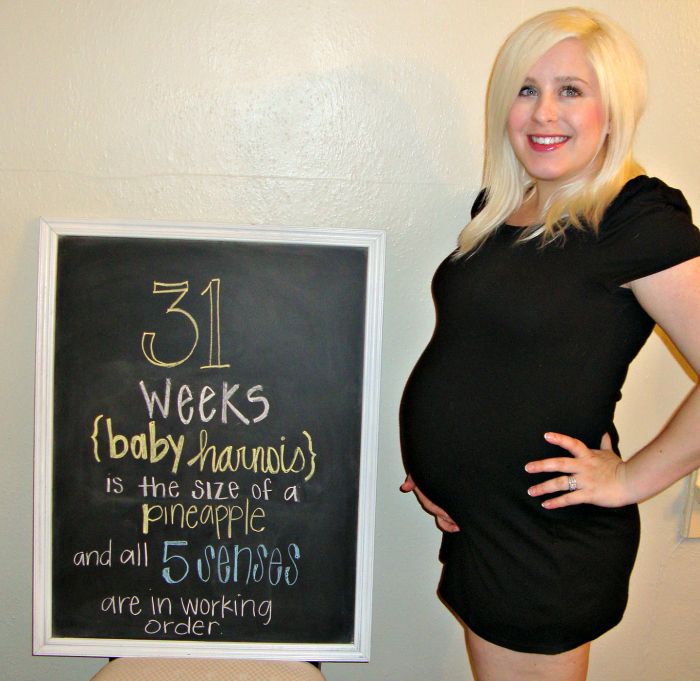 How big is baby? Baby Harnois is the size of a pineapple!

Baby is 15.2 to 16.7 inches big and 2.5 lbs to 3.8 lbs !

Can you believe that all five of baby's senses are fully developed? She just keeps getting smarter! She's is going through major brain and nerve development and her irises now react to light.


Maternity clothes? I officially gave up on my work pants using the hair tie trick and I am just wearing maternity pants to work now. I can still fit into a decent amount of shirts though. Granted, they are shirts that are normally too long and baggy, but whatever works!
Sleep: Much better. In fact, I used to wake up really early and now I can't seem to get myself out of bed before 7 am without Andrew dragging me out of bed by my feet.

Best moment this week: Had my 32 week appointment yesterday at 31 weeks 6 days. Baby's heart rate was 147. Loud and strong! When I laid down for her to do my fundal measurement baby decided to head butt me in the pelvis. That was so sweet of her.

Movement: Yes. I already love her wiggly self.
Food cravings: Not really 'craving' anything necessarily. I want bubbly stuff. So I have been stealing sips of Andrews sodas here and there. Bad mommy.
Gender: Little Baby Harnois is a GIRL!
Labor Signs: None
Pregnancy Symptoms: Exhaustion, peeing a million times a day, a wonderful, ever growing baby bump.
Belly Button in or out? Out!

What I miss: Not having back pain, I do miss that. I forget what it's like to not have a sore back.
What I am looking forward to: Finishing wall art for the nursery. Forcing Andrew to find a place for the hideous giant TV and printer cart in her room. Meeting and snuggling her adorable little self.

Upcoming appointments/events: 34 week appointment is on June 5th.

Weekly Wisdom: Give puppy lots of snuggles because he will soon not be an 'only child'.