So Week 30 was actually a fairly great week! Friday was my birthday & Andrew took me out to dinner at Sakura (a hibachi grill in our area) and then took me to see The Great Gatsby. He even bought me sour gummy worms. It was really nice because Andrew and I don't really go to movies very often (as in, maybe once a year). Then on Saturday morning we left and drove up to Minnesota. We went to IKEA and bought a
dresser
, some drawer
dividers
for our dresser and the babies, some
side tables
for the living room, a
beautiful rug
for baby's room, an awesome
stuffed broccoli
toy for little one, and a father's day
gift
for Andrew. After that we went to lunch at Rainforest Cafe (my first time!) and then went shopping around Mall of America. I got a few items of maternity clothing and some baby stuff & Andrew picked up some new things as well. I told Andrew we will DEFINITELY be making this an annual/biannual trip from now on, it was a lot of fun! We also went to Babies R Us and bought our stroller!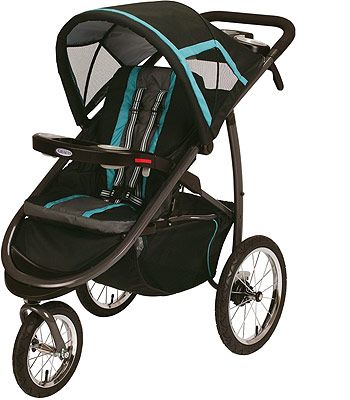 Isn't it beautiful?! We did a lot of research before deciding on this little number! I was so excited to finally get this amazing stroller! We also used foursquare and checked into BRU and we got a $10 gift card, which RULES. Afterwards, we went and ate dinner at Poor Richards Commonhouse & then went back to our hotel. We stayed at a Double Tree and our room was SO AMAZING. Gah, it was beautiful. Andrew was obsessed with the sink, of all things. We woke up early on Sunday to head home so we could be back home in time for our Bradley Method class and afterwards we went to dinner for my birthday/mother's day with my family. Monday I went super nesting mode and did some much cleaning and organizing. It was a great weekend.
Then Tuesday came.
I woke up feeling like complete crap. I felt like I couldn't even carry my own body, I was so weak. I went to work, came home early and then got sick. Needless to say I DID NOT make it to work yesterday. Which, so you are aware, is why I look like a huge hot mess in this weeks photo. When cropping and resizing the picture I noticed I look like I'm crying in the photo? I definitely was not but I did just have a sneezing fit where I sneezed about 30 times before yelling for Andrew to close up the windows and turning on the air conditioning. It isn't' really hot enough to, but my allergies were not having it, and I was already sick and didn't have the energy to deal with it. Bleh. Also, sorry for how poopy my hair looks, too. I literally pulled off my comfy clothes, put some nice clothes on, brushed my hair, took the photo & then threw my jammies on. Yep. Class.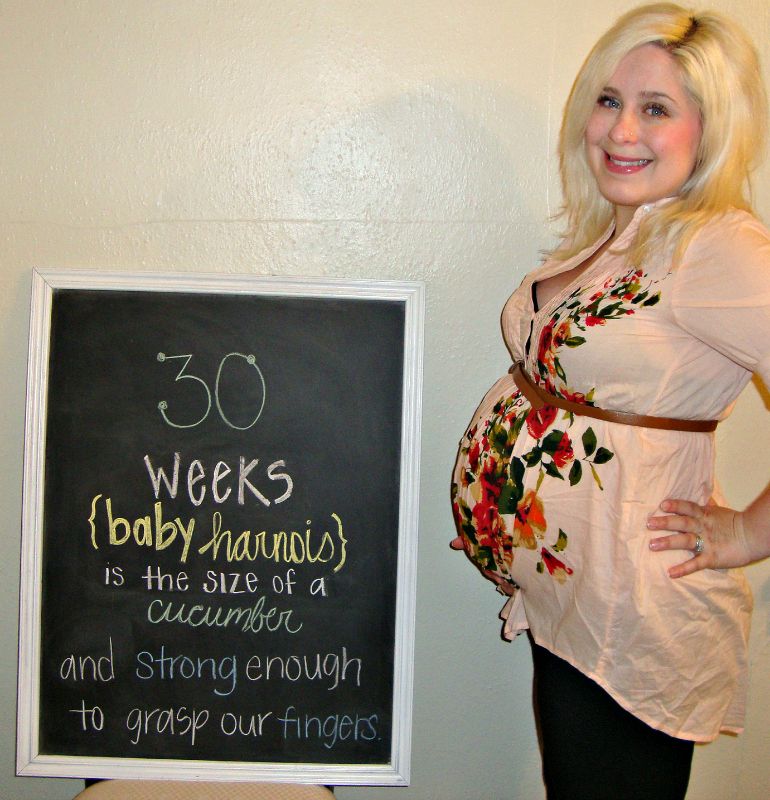 How big is baby?
Baby Harnois is the size of a cucumber!

Baby is 15.2 to 16.7 inches big and 2.5 lbs to 3.8 lbs ! Her skin is getting smoother and her brain is getting wrinklier-- to make way for all that essential brain tissue. She's strong enough now to grasp a finger!
Maternity clothes? I bought my first pairs of LEGIT maternity jeans and pants! Not just maternity yoga pants! GO ME!
Sleep: I was actually doing alright until I got sick and now I'm up every 2 hours. Wahhh.

Best moment this week: I love that she's big enough now that I can see her move on both sides of my belly when she stretches out. Also, I had my hand on my belly and I LITERALLY felt her move her little knee across where my hand is. I melted.

Food cravings: No. Wishing I at least had an appetite at the moment.
Gender: Little Baby Harnois is a GIRL!
Pregnancy Symptoms: Exhaustion, peeing a million times a day, a wonderful, ever growing baby bump.

Belly Button in or out? Out!

What I miss: Not having back pain, I do miss that. I forget what it's like to not have a sore back.
What I am looking forward to: Working on the nursery. MEETING HER.


Upcoming appointments/events: Next appointment is our 32 week appointment on May 22nd. 2 more appointments after that before I start going in every week. Wow...
Weekly Wisdom: At this point in pregnancy I'd say it's important to try and not over do it. I'm still working on this...