Well, Week 33 has kicked my butt. Being on my feet doing hair makes for a very sore end of the day. On top of that, munchkin decided to shove her entire body into my right side the past two days so I've been really sore and uncomfortable and she's pushing into my lungs so even short walks feel like marathons lately. On a lighter note, Andrew and I went to an awesome wedding this weekend and got packets of sunflower seeds as a favor. So neat!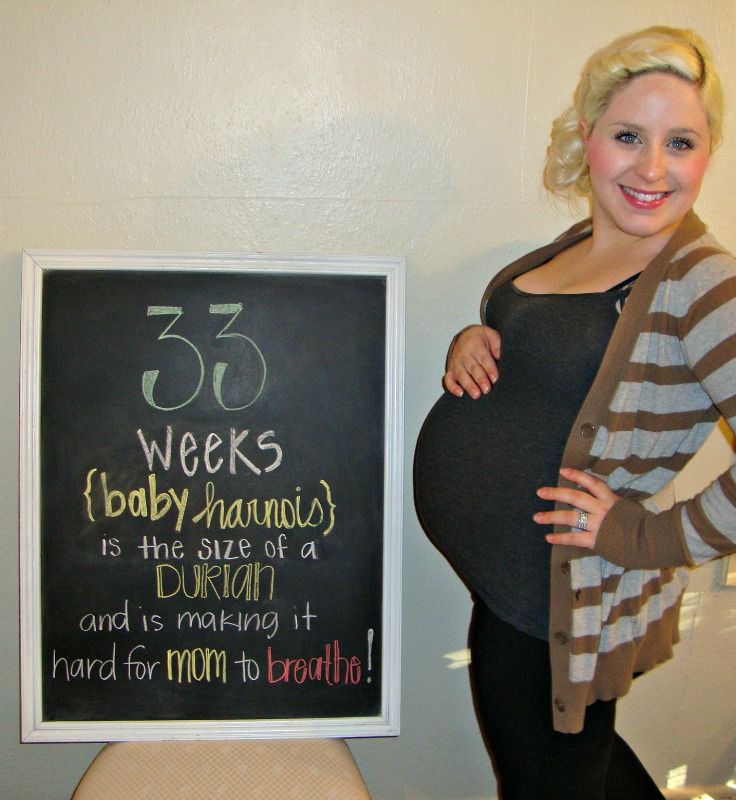 How big is baby? Baby Harnois is the size of a durian fruit!

Baby is 17.2 to 18.7 inches big and 4.2 lbs to 5.8 lbs ! She's starting to coordinate breathing with sucking and swallowing, her bones are continuing to harden and she's going through more major brain development.



Sleep: Still waking up all the time for the usual reason. Baby deciding to lodge herself into my right side isn't helping at all either. It makes sleeping almost impossible.

Best moment this week: Going to my 34 week appointment and finding out that baby girl is still head down.

Food cravings: Nope!
.
Gender: Little Baby Harnois is a GIRL!

Labor Signs: None
Pregnancy Symptoms: Exhaustion, peeing a million times a day, a wonderful, ever growing baby bump.
Belly Button in or out? Out!

What I miss: Breathing.
What I am looking forward to: Finishing wall art for the nursery. Forcing Andrew to find a place for the hideous giant TV and printer cart in her room. Meeting and snuggling her adorable little self.


Upcoming appointments/events: My sister is throwing me a shower this weekend and then my family is throwing one on the 29th!
Weekly Wisdom: Take it easy.
Milestones: After having the worlds easiest pregnancy, I am finally having an 'I feel miserable, woe is me' week.