Week 27 has been a great week. I have a feeling that my body was giving me a freebie because now that I'm in the final trimester (I am 28 weeks today), I have a feeling I'm not going to catch much of a break. This week we bought a dresser that doubles as a changing table from my cousin and his wife for our munchkin & I prepped all my cloth diapers and inserts so far and stocked up the dresser. I'm waiting on a bumGenius order that I got from a seconds sale (basically half off diapers) that has 3 all in ones (2 4.0's and 1 Freetime) and 2 newborns. Then we SHOULD be good to go on the AIO's and I'll just need to stock up on more newborn diapers, which I will probably be getting from Alva. But who knows. I have a little bit of a diaper purchasing obsession. CAN YOU BLAME ME?! THEY ARE SO STINKING CUTE.
We also started our Bradley class this Sunday! This class was an introduction to Bradley but we also learned relaxation techniques and pregnancy exercises. I've been doing them on my own and Andrew has been helping me with some of them as well. My absolute favorite is doing pelvic rocking because I feel like it really loosens my normally tense hip area. I've been doing my What To Expect When You're Expecting workout DVD as well so I don't feel like a lazy blob.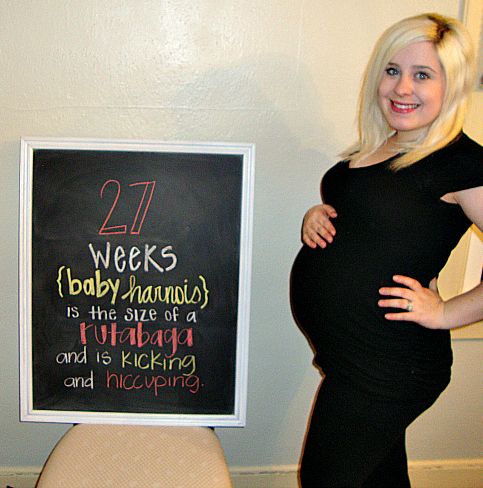 How big is baby? Baby Harnois is the size of a rutab

aga

! Baby is 13.6 to 14.8 inches big and 1.5 lbs to 2.5 lbs ! She is becoming a complex little human being! Her brain stem, which controls most of her vital functions (such as heart rate, breathing and blood pressure) is nearly fully developed. She can stretch and make

grasping motions as well!




Maternity clothes? I'm actually wearing a maternity v-neck and materni

ty yoga pants in this photo! GO ME!

Sleep:I've been only waking up about ONCE

a night this week. WHHHHHA?!?

Best moment this week: Starting out Bradley classes.


Movement: Yes, she's my little wiggle worm.

Food cravings: Nothing. I ate terrible this past weekend though,

but I've been back on track since then!
Gender: Little Baby Harnois is a GIRL!

Pregnancy Symptoms: Exhaustion, peeing a million times a day, my lovely baby bump!

Belly Button in or out? Out!

What I miss: I'll be missing

seeing my feet here soon...


What I am looking forward to: Decorating the nursery more, and meeting my baby girl in just a couple m

onths.




Upcoming appointments/events:
We're down to appointments every two weeks now! Our next appointment (30 weeks) is on May

7th. Oh and 'event' wise I am having a garage sale this weekend!
Weekly Wisdom: Relaxation is

key!
Milestones:
Third Trimester? Yes? No? Depends on who you ask

!