I feel like the past week, the first of my final trimester, has gone pretty slowly. Nothing to crazy happened & generally I felt just about the same as last week. This past weekend we threw a garage sale which, because of our location, kind of sucked. I should have known. We don't have street parking for a block or two around us, so next time we're just going to team up with someone who is in an area of town with a better parking situation. I did however obtain an awesomely awkward v-neck tan line from spending a total of 13-14 hours outside between the 2 days. This weekend I'm going to my grandma's in Montezuma with my mom for some flea marketing. So Andrew gets a whole 2 nights of the bed to himself (unless you count Chewy).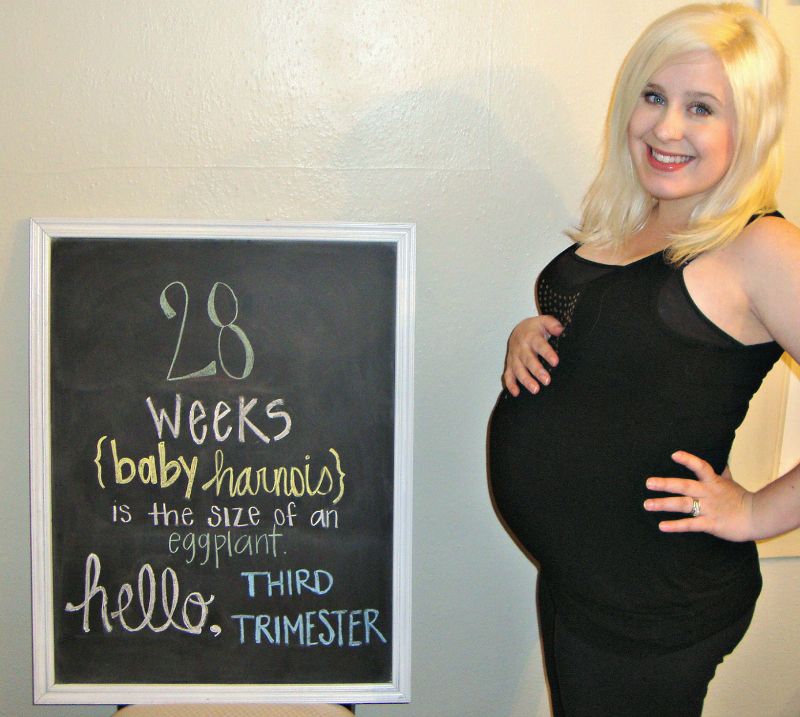 How big is baby? Baby Harnois is the size of an eggplant!

Baby is 13.6 to 14.8 inches big and 1.5 lbs to 2.5 lbs ! Her skin is smoother and less wrinkled looking and her lungs are mature enough to breath on her own if she was born prematurely. Plus, her eyes, which can open and close now, can sense changes in light!
Maternity clothes? Here and there, but not all the time. I'm glad I kept some of my 'when I was bigger' clothes because it's really been coming in handy now that I'm pregnant! Hahah.

Sleep: I'm back to waking up a few times a night again.

Best moment this week: I love how whenever I'm in bed and I roll from side to side my little girl wiggles and pushes like "MA! Can't you just lay still!?!"


Movement: Yes, she's my little wiggle worm.
Food cravings: No cravings at all, really. I'm bad at being a typical pregnant lady.
Gender: Little Baby Harnois is a GIRL!
Pregnancy Symptoms: Exhaustion, peeing a million times a day, a wonderful, ever growing baby bump!

Belly Button in or out? Out!

What I miss: Wearing whatever I want. I love my bump and feeling my little munchkin, but I've started to realize the farther along I get into this pregnancy I wear workout clothing more and more ( and not just because I'm working out, haha).

What I am looking forward to: Decorating the nursery more, and meeting my baby girl in just a couple months.


Upcoming appointments/events: We're down to appointments every two weeks now! Our next appointment (30 weeks) is on May 7th. And tonight my mom and I are heading out of town for some flea marketing this weekend.

Weekly Wisdom: Being 28 weeks pregnant and standing on your feet all day doing hair, though it does make the day fly by, SUCKS for your feet. I was in super waddle mode after work last night.
Milestones: Third Trimester!!!!