Well here I sit, 27 weeks pregnant, writing this blog post about my 26th week of pregnancy and I can't believe how far along I am. Only 13 more weeks to go. 14 if she decides to be a turkey and hold out on us. Wow. That's so soon! This week Andrew finished the final touches of painting in the nursery and we started putting Baby Girl's room back together. With all the stuff thrown around the room I forgot how big her room really is! I'll have to make a post on the progress here soon.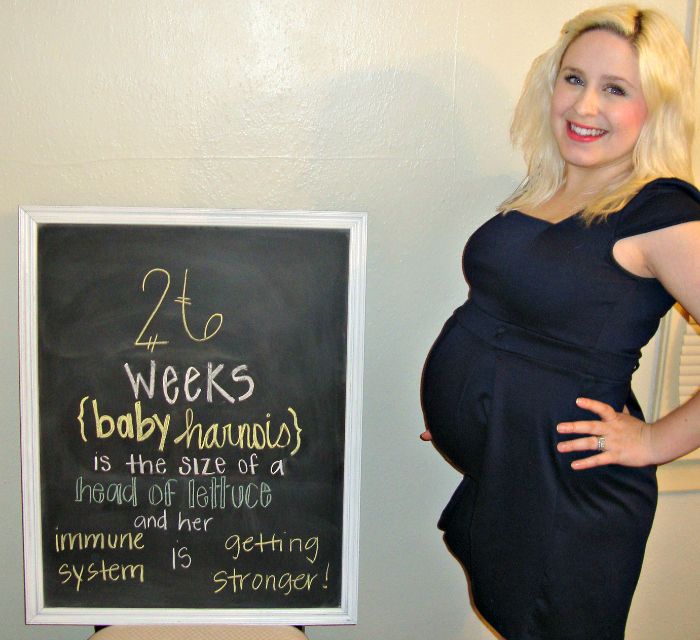 How big is baby? Baby Harnois is the size of a head of letttuce!

Baby is 13.6 to 14.8 inches big and 1.5 lbs to 2.5 lbs ! While her eyes are still forming they will open soon! Hello, baby! Her eyelashes have completely grown in, too, and her immune system is getting ready for the outside world by getting antibodies from mama. Baby's lungs are also starting to produce surfactant, the fatty substance taht coats the inside lining of the lungs' tiny air sacs, helping them expand during breathing. And her skin has developed color now as her body is now making melanin.




Maternity clothes? I finally bought maternity clothes! Two shirts (buy one get one free, of course. I'm cheap, people!) & a pair of maternity yoga pants. And yes, there is a different between regular yogas and maternity yogas!

Sleep: Since the cold/sore throat crud I had has dissolved a bit, sleep has been much more enjoyable.

Best moment this week: Putting the nursery back together. Her constant movement after last weeks scare has been a blessing as well.


Movement: Yes. She gave me a little scare but she's made up for it in full force the rest of the week.
Food cravings: No cravings really, but my favorite snack right now Rosemary and Olive Oil Triscuits & Fareway's chicken salad.
Gender: Little Baby Harnois is a girl!

Pregnancy Symptoms: Exhaustion, peeing a million times a day, baby belly!

Belly Button in or out? I say out but Andrew says he thinks only half of it is totally out. Dork.

What I miss: Not having trouble finding a comfortable position to sleep in.
What I am looking forward to: Decorating little one's nursery.


Upcoming appointments/events: Our 28 week appointment and my glucouse test is on April 24th.

Weekly Wisdom: If baby decides to be a little turkey and not move, drink lots of sugar and lay on your left side. I don't know what it is but baby will wiggle like a crazy person.
Milestones: Almost into the third trimester!!!

Oh! On another note, I ordered cloth diaper safe diaper cream and detergent this week! I spent quite a bit of time online searching for good detergents without softener, enzymes and all that stuff that's not good and causes repelling or icky smelling diapers and narrowed it down to a few before I decided to go with Nellie's. I got a 100 load tin for 16 dollars making it $ 0.16 a load! And I've heard from many people/reviews that it doesn't take nearly as much detergent as recommended, so really it is LESS than 16 cents a load. Not bad! I also got CJ's BUTTer because it's supposed to be great with cloth diapers. It actually comes in stick form too, which I think I am going to invest in for the diaper bag for easy changes on the go! Anywho, I'm actually really excited to prep her cloth diapers this weekend. Is that ridiculous? Oh well!