I'm going to be honest. It was hard for me to convince myself to take a photo this week because I have been pretty sick and haven't gotten much sleep at all. Hence the reason that I am wearing sweats, Andrew's shirt and have a messy poof of hair. Keeping it classy.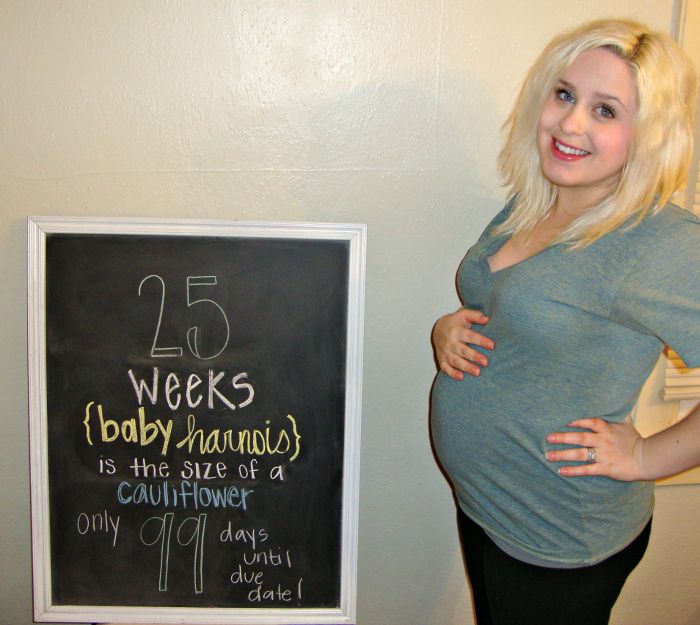 How big is baby? Baby Harnois is the size of a cauliflower!

Baby is 13.6 to 14.8 inches big and 1.5 lbs to 2.5 lbs ! She's enjoying her new sense of equilibrium -- she now knows which way is up and down and she is growing more fat and more hair too!




Maternity clothes? Seriously, someone drag me to the store and force me to buy some cute clothes.

Sleep: Sleep has been HORRID this week. I've been sick so I haven't had much for sleep.

Best moment this week: My mom and I painted the trim and doors in the upstairs/nursery. If Andrew finishes the painting I think we will OFFICIALLY be done painting this weekend. This has been a very time consuming process but considering we have basically entirely redone the entire upstairs, it's understandable.


Movement: Yes. I'm so in love with feeling her move.
Food cravings: Nothing. I've been forcing myself to eat the past couple days because I haven't felt well.
Gender:
Little Baby Harnois is

a girl!
Pregnancy Symptoms: Exhaustion, frequent urination, baby belly!

Belly Button in or out? I say out but Andrew says he thinks only half of it is totally out. Dork.

What I miss: This week? Sleep.

What I am looking forward to: Feeling better! OH & Andrew is talking me on a weekend getaway slash babymoon the weekend of my birthday. I'm so excited!


Upcoming appointments/events: Our 28 week appointment and my GD test is on April 24th. I misspoke on the last post!
Weekly Wisdom: I'm not doing too well on this weekly wisdom thing. Sleep deprivation and illness don't lend to a creative mind.
Milestones: Andrew finally got to watch baby girl move around. He poked my belly and she pushed back and we watched her move around. I can't wait to meet her...
OH, & here are some of the headbands I've been making for our little lady the past week or so

.