What all happened this week? Hmmm, Andrew finished painting in the nursery. Well, everything but the trim, that is. We had an amazing Easter lunch and dinner. I started obsessively making headbands for baby girl and going into panic mode about baby names thanks to a couple bad dreams.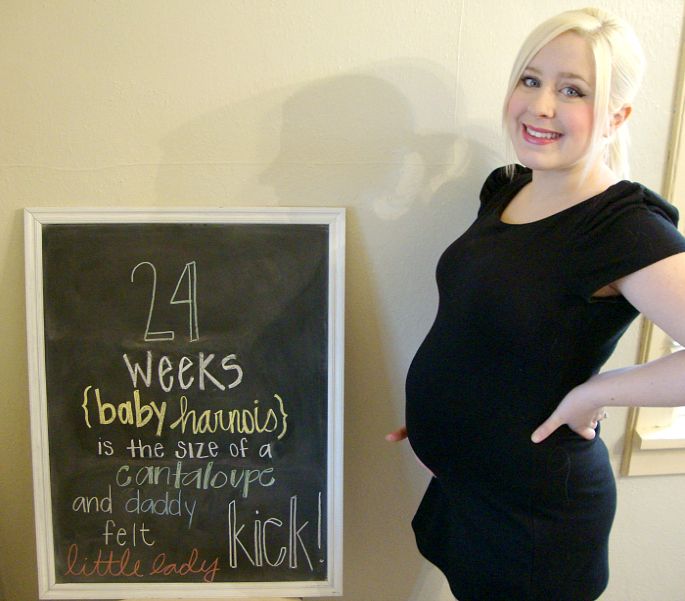 How big is baby? Baby Harnois is the size of a cantaloupe!
Baby is 11.8 to 12.7 inches big and 1.5 lbs ! Her skin is gradually becoming more opaque and 'baby like'. It's also got a new pink glow thanks to the small capillaries that have recently formed!
Maternity clothes? Not yet, still. For the most part, I wear work clothes and then come home and change into sweats. Luckily Chewy and Andrew still love me in my comfy clothes.


Sleep: Up 2-3 times a night. Sometimes she was up with me in the middle of the night this week, but she's been deciding to be more active during the day this week.


Best moment this week: Seeing her room almost finished and ready to be decorated.


Movement: Yes. It's hard to focus on anything else when I can watch my belly bounce as she moves around. Seems so much more entertaining/exciting/important than anything else.

Food cravings: Nothing in particular. I've been watching my 'diet' a lot closer the past couple weeks. Thinking about writing a post about this!
Pregnancy Symptoms: Exhaustion, frequent urination, baby belly!

Belly Button in or out? In and out. Depends how I'm sitting slash standing.

What I miss: Having a larger lung capacity and not peeing every two seconds. Luckily for me, I still have total bladder control (no sneeze or giggle pees here!), which apparently some people at this stage do not? Yay for me!

What I am looking forward to: Deciding on a name, decorating the nursery, working on more headbands.


Upcoming appointments/events: Our 28 week appointment and my GD test is on April 24th. I misspoke on the last post!

Weekly Wisdom: Hmmm, not sure about this one this week.

Milestones:
Andrew feeling a big full on kick for the first time! He's felt her moving around in my belly before but this was the first time he's felt her kick. He was so excited & it was adorable. He said it was a pretty awesome daddy moment.

Okay, my friends. I would make this post a lot longer, but it's 10 pm, which is way past my bed time. I will update you all again soon!