So, this week has been pretty relaxed compared to last weekend. Since we decided to give ourselves a break from the painting, it's basically been work, dinner, sleep. Which is NICE. Ever since I've been pregnant, one BIG thing I have lacked is energy, so staying up 'late' and painting was pooping me out even more. One thing I realized I need to stop doing is taking my photo for the previous week (ex:23) the day before I turn the next week (ex:24). I'm growing so much now, so I'm going to try and start taking the photos beginning to mid week instead of at the end. Also, if for some reason baby girl comes a little early, I might miss a weekly photo because I was waiting until the end of the week! I think she agrees, because she's wiggling as I type this.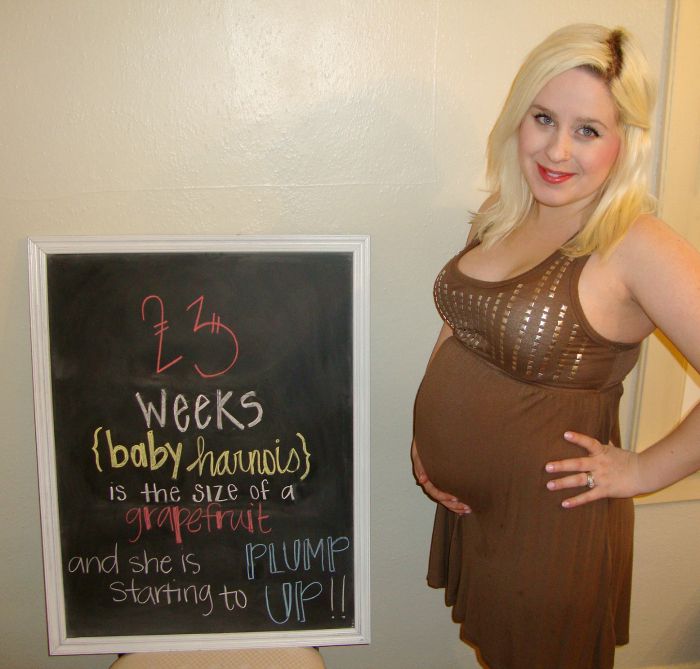 How big is baby? Baby Harnois is the size of a grapefruit!
Baby is 11.8 to 12.7 inches big and 1.3 lbs ! Not only is she getting bigger, she's getting cuter! Her face is fully formed now, she just needs some extra fat to fill it out! She's listening to our voices and my heartbeat and even loud sounds like cars honking and Chewy barking.
Maternity clothes? I have said this probably a million times, but I should probably get some maternity jeans. Add black work pants/slacks to that list as well.

Sleep: Up 2-3 times a night. I usually wake up to a very wiggly baby reminding me I have to pee.

Best moment this week: Hearing her heartbeat again and listening to her punch at the doppler. Also, found out that she's already head down. Hopefully she stays that way!

Movement: Yes. I can't get enough of it.

Food cravings: Not really a craving, but I have been loving egg salad this week. Andrew, on the other hand, doesn't appreciate the kitchen smelling like a rotten fart.
Pregnancy Symptoms: Exhaustion, frequent urination, baby belly!

Belly Button in or out? In. But BARELY. It's ready to pop! I give it a couple more weeks.

What I miss: Not missing much this week.

What I am looking forward to: Finishing painting her nursery so we can put everything in it's place and start decorating!


Upcoming appointments/events: Our 28 week appointment and my GD test is on April 26th.

Weekly Wisdom: Eat snacks! This is really important for everyone but especially pregnant women! This is something I'm working on!

Milestones:
Hearing babies heart beat again. My favorite sound in the entire world.

Hopefully we can pick up more paint and finish up painting this weekend. Then I don't have to think about it anymore. Which will be a nice weight of

f of my chest.