So, as I posted last week Andrew and I went and got paint for our little one's nursery. We also picked up some sand that you mix in with the paint that helps add texture and cover up texture in walls like the particle board that covers our upstairs bedroom/nursery. Let me tell you something I didn't know until this weekend. I. Hate. Particle Board. If, after this nursery is officially painted, I don't have to see another piece of raw particle board ever again in my life, I will be COMPLETELY okay with that. Also, although the sand makes the walls looks TEN TIME BETTER, it thickens the paint requiring the use of more paint. Which is why 2 gallons into our 'weekend painting project' we STILL AREN'T FINISHED.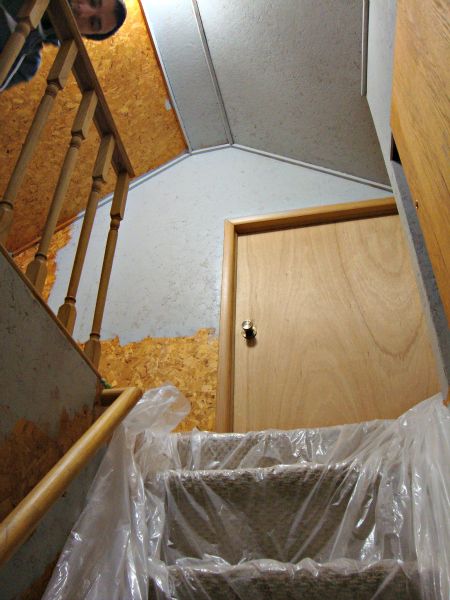 The stairs were SUCH a pain to paint. And they still need a second coat. The angles and the carpet and everything made it such a time consuming task. Especially when particle board has so many nooks and crannies that you want to fill. I think that has been the most frustrating thing for us this entire process. Just making sure all the nooks are filled after the second coat because otherwise it looks stupid.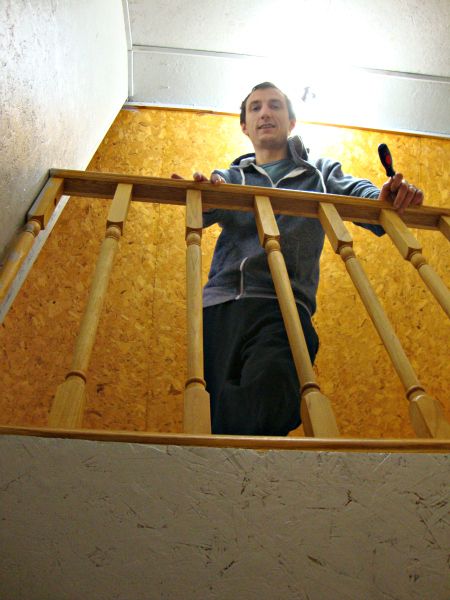 My handsome husband in his 'Sunday Best'.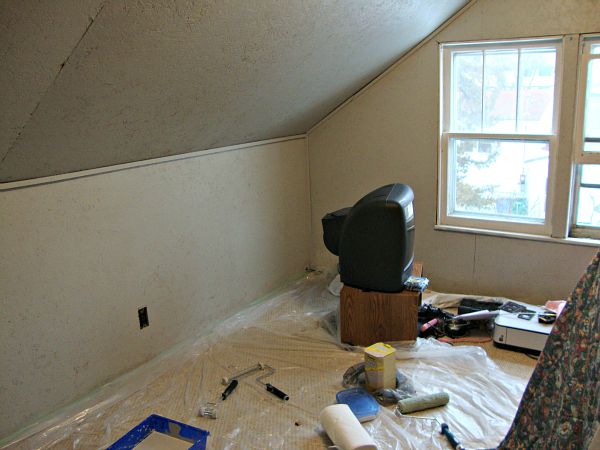 This was during Day 1 of 3. And let me tell you what. My back did not appreciate having to paint trim...
Officially, this side of the room, the build in drawer and the stairwell are now the only things left to paint of put a second coat on, but like I said, we went through our second gallon of paint so we decided after working on the room hardcore Saturday-Monday we decided to take a break until this coming weekend. We do plan on painting the cork board white (an idea I'm stealing from an old roommate of mine, Wendy) & we are going to be painting the trim, rails & doors white as well.
Trying to decide if we want to leave the knobs gray, paint them white or replace them entirely.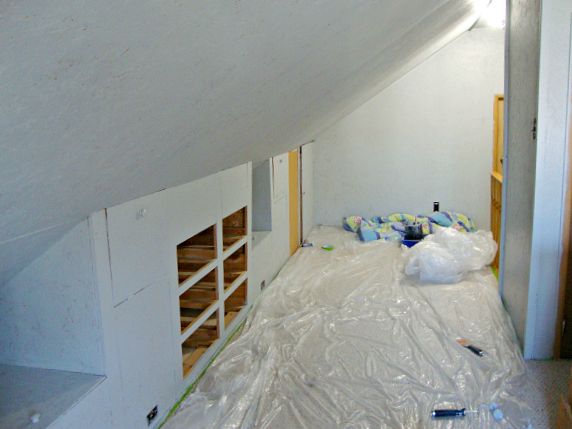 I don't have any photos of the other side of the room with two coats, but even with out the second coat on the wall with all the built ins, I can tell you one thing, The room looks SO MUCH BIGGER! And I do love that.
Maybe I can convince Andrew to have a buddy come help him paint. Because as of right now, this mama is OVER IT! I think I'm ready to put the room back together and start organizing and decorating.