One thing I have tried REALLY HARD to do while I've been pregnant is to try and not gorge myself. I haven't wanted to use this pregnancy as an excuse to eat whatever I want and then regret it when our little munchkin was here and I was carrying plenty of unnecessary extra pounds. Apparently I ditched that mindset this week. I have eaten SO TERRIBLY and the week isn't even over. So after realizing this, I'm throwing myself back on track! I'm back to eating lots of smaller meals (which baby seems to prefer) instead of stuffing my face a couple times a day with food that has practically no nutritional value for me OR the little lady.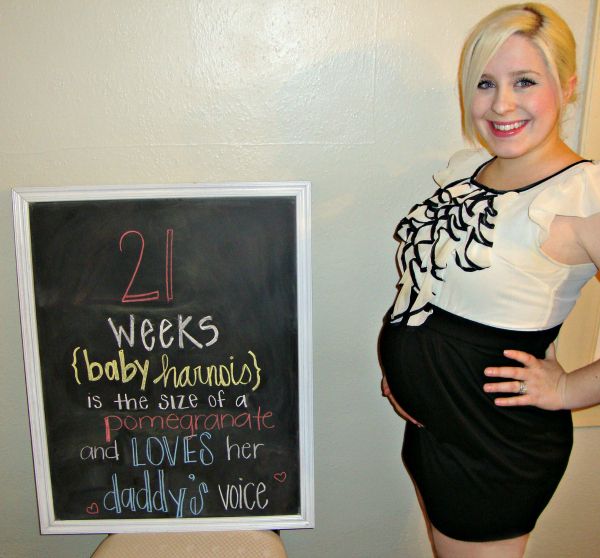 How big is baby? Baby Harnois is the size of a pomegranate!
Baby is 10.5 in inches big and

12.7

oz ! Baby gulps down several ounces of amniotic fluid each day both of hydration and nutrition and to practice swallowing and digesting. And, these days, those tastes buds actually work! Studies show that after birth, babies are most interested in tastes they've already experienced through amniotic fluid.
Maternity clothes? I really need to go buy some maternity jeans, yep yep. All my other clothes, though getting snugger, still fit me.


Sleep: Up 2-3 times a night. Same as usual.

Best moment this week: Not sure if this is 'the best' but it sure is the oddest! My belly has been pointy! You can even tell from the photo! And when I stretch my back, it becomes even more pointy! Anyone else ever experienced this?

Food cravings: Oh, you know, apparently EVERYTHING this week.


Pregnancy Symptoms: Exhaustion, frequent urination, baby belly!
Belly Button in or out?
In. Unless I stretch, then it pops ou

t

! :)

What I miss: Still just coffee, really.

What I am looking forward to: I have been having dreams of meeting her and holding her. I can't wait to hold her and snuggle her.


Upcoming appointments/events: Our 24 week appointment is March 26th

.
Weekly Wisdom:
Healthy snacks are a pregnancy godsend.

Milestones:
Can my pointy belly be my milestone as well? HAHAHA!

Andrew has felt our baby girl a few times this past week. I am so happy about this because I think he was starting to get bummed when I'd talk about her wiggles and pokes and he could feel her himself. She loves his voice though. She literally moves around every time he talks to my belly. It gives me butterflies too, little lady!