Well if you read our last post you know that we are expecting a
BEAUTIFUL
&
HEALTHY BABY GIRL
!
We're so excited, & we MIGHT have gone out and bought a few adorable outfits on Sunday. Just might have. We were so so so happy that our little girl was super healthy and it was such a blessing to see her moving around and playing in my belly during our ultrasound. I can't wait for this little lady to join the world & I can't wait to teach her things and to be the best possible mommy for her.
Andrew & I have been brainstorming some names for our daughter. Let me tell you, I NEVER thought this would be so difficult, but it is! I've had a favorite for a boy and a girl for a while now, but we want to cover all our bases so there isn't an awesomely perfect name that we miss. We're weird.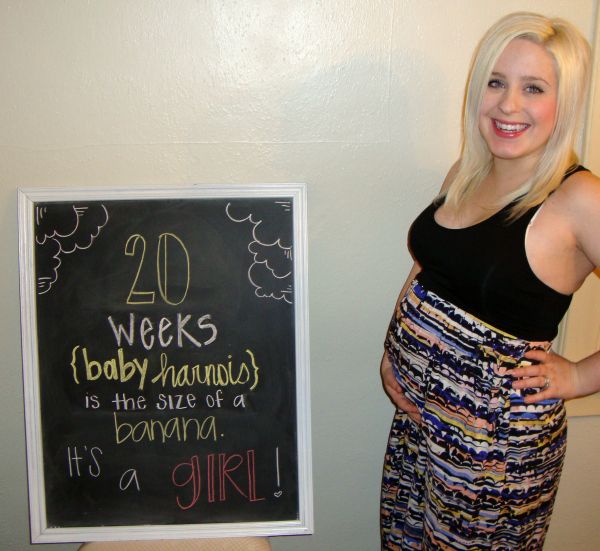 How big is baby? Baby Harnois is the size of a banana!
Baby is 6.

5

in inches big and

10.6

oz ! Baby's digestive system is busy creating meconium (a tarry black substance made of swallowed amniotic fluid,

digestive

secretion and dead cells), which will fill the diaper after birth. And, speaking of the diaper situation, baby's genitals are not f

ully formed!
Maternity clothes? Still not wearing maternity clothes!

Sleep: Up 2-3 times a night. Same as usual.

Best moment this week: Having our Gender Reveal party and spending time with our friends and family. I realized that though it's draining, I love throwing get parties. I never realized it as this was our first 'official' party/get together in our home since we bought it!

Movement: Yes. From the way she was positioned at the ultrasound, I'm assuming that she's usually elbowing me when I feel her.


Food cravings: No cravings. I have been downing water like a fiend, though!

Pregnancy Symptoms: Exhaustion, frequent urination, baby belling forming!
Belly Button in or out?
In. Unless I stretch, then it sort of pops ou

t

! :)


What I miss: I might miss coffee

... just a little.


What I am looking forward to: I'm looking forward to starting on decorating and getting our little girls nursery ready for her a

rrival.



Upcoming appointments/events: Our 24 week appointment is March 26th

.
Weekly Wisdom:
It's far far cheaper to window shop for baby clothes than actually shop for baby clothes. I should really block Baby Gap from my brow

ser.

Milestones:
Shopping for her was lots of fun! I'm TRYING to be good & not spend too much money on stuff for her, but

it is SO HARD!

A couple of photos of some ADORABLE things we got for our little girl this weekend.