Week 19 was a great week for us! At 19 weeks 4 days, we went our anatomy scan and found out that we have a beautiful, healthy baby. We're super excited because we're planning our gender reveal party for this Saturday March 2nd, so I will update you all as soon as our family and friends know! Also, I found out why I feel my belly is so round so high up! Apparently my placenta is on top of baby, which is totally fine, but it explains why I feel so...bulbus? :)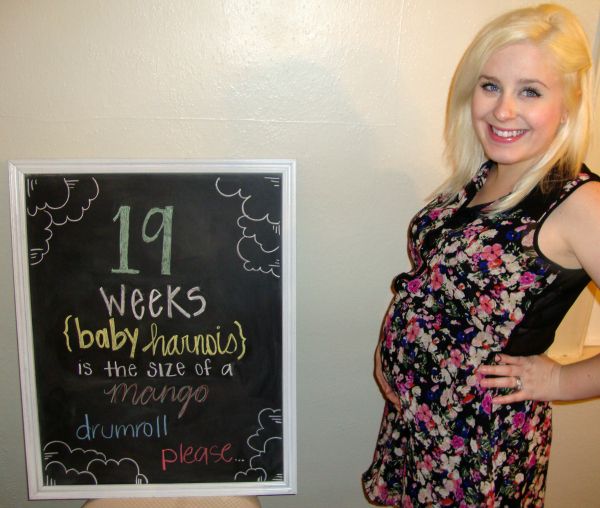 How big is baby? Baby Harnois is the size of a mango!
Baby is

6.0

in inches big and

8.5

oz ! Vernix caseosa, a greasy white substance made of lanugo, oil and dead skin cells (yum) now coats baby's skin, shielding it from the amniotic fluid. Picture yourself after a nine-month bath, and the need for protection makes sense.


Maternity clothes? Still fitting into my regular clothes for the most part! Things have gotten more snug, obviously. My jeans now require the hair tie trick in order to be comfortable.


Sleep: Still up 2 or 3 times a night.


Best moment this week: Finding out that we have perfectly healthy baby and finding out the sex of our baby!


Movement: Shim likes to move most when I'm sitting down, I must be taking up too much room!


Food cravings: No cravings. Proud of myself though! At 20 weeks, I have only gained 7 lbs this pregnancy! Go me!


Food Aversions: Not really.


Gender: Drumroll please...


Pregnancy Symptoms: Exhaustion, frequent urination, bloating/baby belling forming!


Belly Button in or out? In


What I miss: No

t much this week. Every little thing is so worth the final outcome...


What I am looking forward to: Meeting out precious baby in July. Preparing for baby is fun, but meeting shim will take the cake.


Upcoming appointments/events: Our 24 week appointment is March 26th

.


Weekly Wisdom: If you plan on having a gender reveal party, do NOT wait almost an entire week to tell everyone if you yourself alread

y know!


Milestones: Watching our baby play with their toes while we were getting our anatomy scan. Our tech was amazing, she stopped a couple times just to let us watch shim. My heart flutters, ahhh.