So, I feel like the most terrible mom in the world. I was doing so well with keeping up each week and then last week my home was invaded by a little mouse so I hid on my bed for half of my 17th week (convinced the mouse couldn't get to me there) & I didn't take a week 17 photo. Luckily there is a lot of excitement coming up in the next week or so to make up for that! :)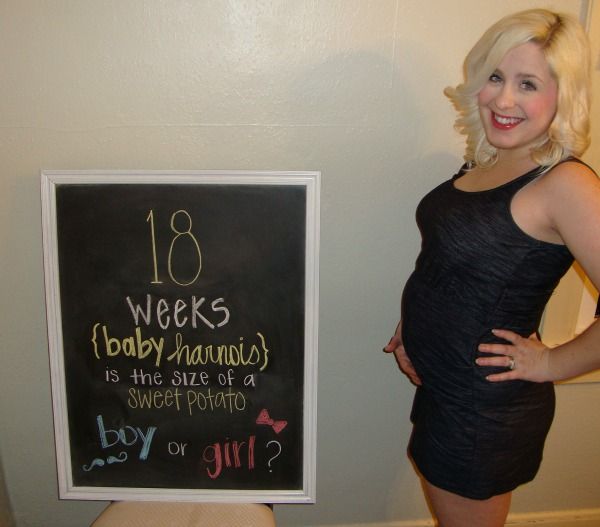 How big is baby? Baby Harnois is the size of a sweet potato
! Baby is 5.6 in inches big and 6.7 oz ! Baby has become amazingly mobile, passing the hours yawning, hiccuping, rolling, twisting, kicking, punching, sucking and swallowing. And baby's finally big enough most will start to feel movement.
Maternity clothes? I went and tried on some maternity jeans. The band still didn't fit my belly that well but now looking at this 18 week picture, I wonder if that may have changed during the past week!
Sleep: Still up 2 or 3 times a night.
Best moment this week: Just feeling my munchkin wiggling in my belly is the best moment of every week.
Food cravings: Not really. I've been eating a lot of soup, but I don't think it's really due to craving, it's just nice and warm which is the exact opposite of what the weather is here.
Food Aversions: Not really.
Gender: We will find out February 25th! 4 more days!
Pregnancy Symptoms: Exhaustion, frequent urination, bloating/baby belling forming!
Belly Button in or out? In
What I miss: Wearing jeans.
What I am looking forward to: Our anatomy scan on Monday!!!! I'm so excited!
Upcoming appointments/events: Our next appointment is February 25th. 20 week appointment & a/s.
Weekly Wisdom: Still feeling a little self conscious about my lumpy belly bump. Need to push past that.
Milestones: Seeing my belly flatten out while the other side sticks out because peanut is pushed against one side of my belly. It was adorable. Also made it possible for Andrew to feel where the baby was for the first time. The look in his eyes was something I will NEVER forget. Child like excitement. I loved it.

Andrew & I find out on Monday what we are having and then I have to WAIT until Saturday before we can even tell anyone! AHHHHHHHHH. Again, my apologies for my mouse induced absence. I am planning a few posts including a post about the things we have for baby so far.

Love,

Mama & Baby Harnois