Week 16! YAYYYYYYY!!!!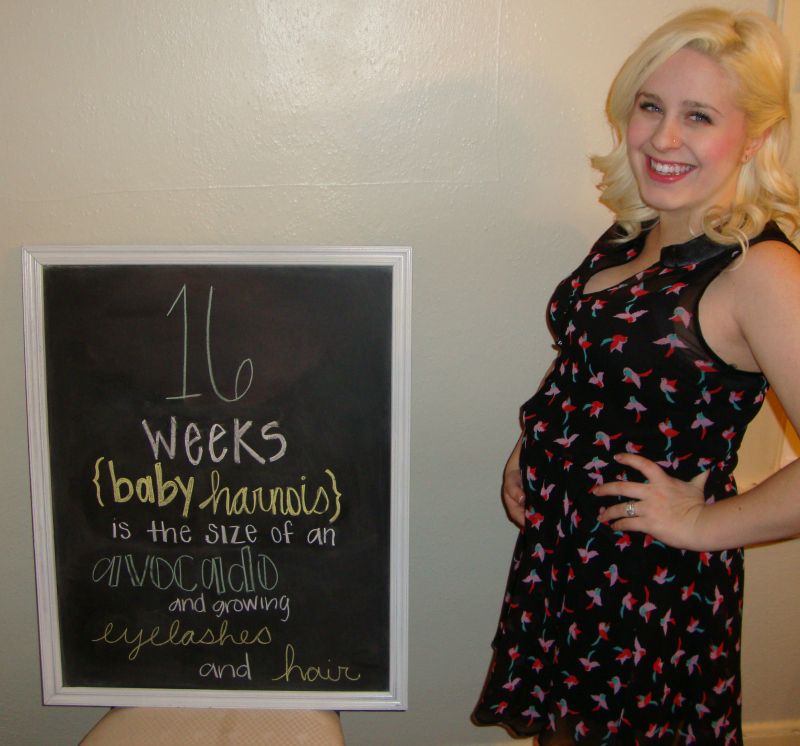 How far along? 16 weeks 5 days
How big is baby? Baby Harnois is the size of an avocado! Baby is 4.6in inches big and 3.5 oz ! Watch what you say... tiny bones forming in baby's ears mean the little one can now pick up your voice. Eyebrows, lashes and hair are starting to fill in, and taste buds are forming. And, if you're interested, an ultrasound might be able to determine gender.
Maternity clothes? I've noticed myself starting to gravitate towards more of my flowy dresses and shirts. I feel like I can squeeze maybe another month out of my regular clothes before I have to move on and invest in some maternity pants.
Sleep: Same 'ol same 'ol! I was stupid and decided I needed a nap at the Super Bowl party we went to and I fell asleep on a love seat. My back hasn't been too happy with me since that.
Best moment this week: Knowing that in only a couple of weeks we find out if our baby is Mr. or a Miss! OH! And my hubby put the crib together!!
Movement: It's there, not a ton of it lately though.
Food cravings: Not much at the moment. I'd really like some orange juice right now though!
Food Aversions: Nothing much, still not a fan of stuff like porkchops.
Gender: We will find out February 25th!
Labor Signs: None.
Pregnancy Symptoms: Exaustion, frequent urination, bloating/baby belling forming, fluttery tummy.
Belly Button in or out? In. But I stretched and yawned the other night and Andrew made fun of me because it popped out. Keep in mind, when I was skinnier, I was an outtie. Because of this I'm convinced that once my belly button pops it's going to look ridiculous.
What I miss: Right now? Sleep. The exhaustion is catching up with me.
What I am looking forward to: Preparing for baby, finding out the gender of our little munchkin. Holding our sweet baby in my arms.
Upcoming appointments/events: Our next appointment is February 25th.
Weekly Wisdom: Take advantage of all moments of sleep!
Milestones: Putting the crib together is the biggest one, probably. I can't wait til I can feel our little shim more and find out what he/she is so we can start preparing better for baby!