As you might have been able to tell from the last post or two, we finally painted the walls in the dining room! Granted, the trim still needs painted and so does the ceiling, but considering how much of a chore it is to get my husband to paint, I have considered getting two coats on an entire room a major success.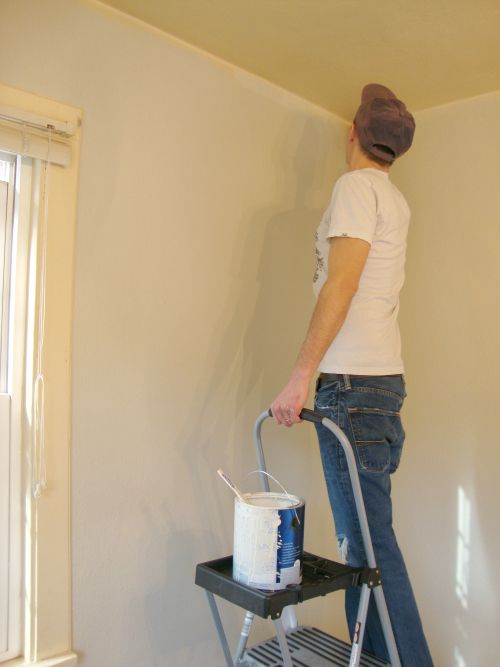 I had gone swatch browsing with my friend, Wendy, months ago when I was trying to decide what to do with all the rooms in our house. I rotated through, like, four different design ideas before Wendy found this color and I knew JUST what to do. The color is Valspar Oatlands Subtle Taupe. It's this awesome light greyish taupe color and I would have no problem using it in every room in our home, for serious.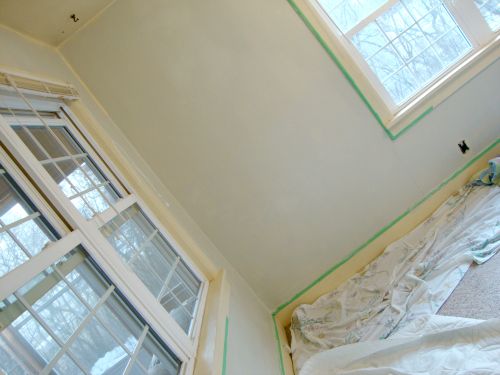 As I have stated before (at least I think I have, preggo brain here) I have been nesting like crazy. I thought that this only happened when you were close to delivering, but let me tell you... NOT FOR THIS MAMA! I suppose it's partially my own fault. We bought this house two months before we got married at the height of wedding planning & I had and or made NO time for organization and or decorating. The dining room was a catch all for wedding shower gifts for good month, then a wedding organization station & then a catch all for gifts once more. Not only that but the second bedroom slash babies room was basically an extension of our attic. We ( and by we I mean me, mostly) had so much crap and I honestly didn't want to take the time to organize it until the wedding was done with.Well, unfortunatly, we lost my father in law only a few weeks after the wedding and neither my husband and I were in any sort of mood to do anything at all. So, needless to say, ever since I've been pregnant I have been nothing but doing the cleaning and organizing that I should have done months before. I went through my closet and sold enough stuff I wasn't wearing anyways to pay for the deposit and part of the first payment for our Bradley Method class! Yay! The rest of it I plan on putting in a garage sale in April. I have literally sorted bags upon bags of clothes as well as other items that I had basically just gathered and kept since I've been on my own and ever before that. Stuff that my hoarder tendencies told me I would totally need again someday. But, after gathering dust for years upon years, I'm assuming the hoarder side of my brain was wrong and I'm getting rid of it. MINIMIZATION!!! I'm obsessed with it at the moment. Unfortunately, I may have to teach this new acquired habit to my husband who SWEARS that he wears all 12 pairs of jeans even though I know he only wears four of them. I'll get there.
Anywho, here is a picture of where the dining room is at now. I don't really have a before picture, but I'll just tell you now, it wasn't pretty & I'm doing you a favor by saving you an eyesore.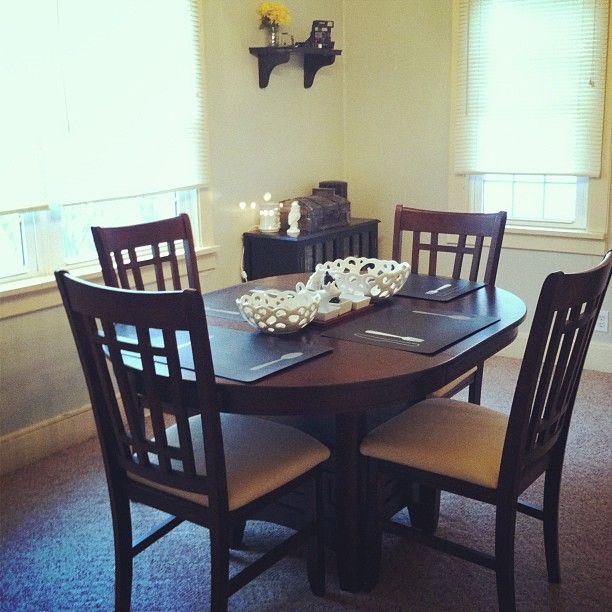 We used some wedding gift cards to by a little hutch that we use for Andrews drinking glass collection. The dining room table was a hand me down from my great grandmother as well as the shelf above the hutch. The decor on the table were mostly all wedding gifts. The hutch holds The Gentleman's Guide to Cocktails book I got A for his birthday, our wine box, M & an owl figure I got at Goodwill. The shelf has A mason jar holding flowers from the wedding (we did fake flowers, obviously) & the rest are cameras I've found at either goodwill or garage sales. I have an old chest on the other side of the dining room, but I'm still trying to figure out what I want to do with that. Right now it's housing an old typewriter and and old radio I got as Christmas gifts from Calico Henhouse a few years back, but it isn't quite how I like it just yet. I'm working on it!