Little Baby Harnois decided to scare the living crap out of me this week. I went to my 16 week appointment on Monday (15 w 4 d). The nurse came to do the doppler & couldn't find the heartbeat. I felt peanut move on my right side so I told her to go over there where she could babies heartbeat for a second and then baby flew off to another area of my belly & I couldn't feel 'shim' anymore. About 20 seconds later she finally found babies heartbeat again and finally got a good reading, 154 BPM. Most comforting sound in the entire world. I could listen to the woosh woosh woosh woosh all day.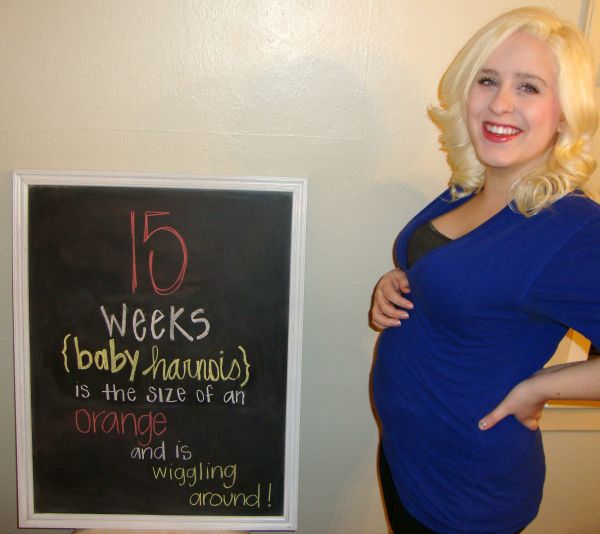 How far along? 15 weeks 5 days
How big is baby? Baby Harnois is the size of an orange
! Baby is 4.0 in inches big and 2.5 oz !
Continuing the march towards normal proportions, baby's legs now outmeasure the arms. And, finally, all four limbs have functional joints. Your fetus is squirming and wiggling like crazy down in the womb, though you probably still can't feel the movements
.
Maternity clothes? Have them, not fitting into them yet. I have a feeling this will happen sooner rather than later!
Sleep: Up 2 or 3 times a night.
Best moment this week: Our next appointment is February 25th at 9am & we have our Anatomy Scan and get to find out if our little 'shim' is a baby boy or a baby girl!
Movement: Yes! This turned out to be a bit of a problem at the doctors appointment, though. Haha.
Food cravings: I did 'crave' HuHot this past week. I'm not really craving it, but I've been drinking lots of V8 Fusion Grape Raspberry juice. It's so good!
Food Aversions: Not really.
Gender: We will find out February 25th!
Pregnancy Symptoms: Exhaustion, frequent urination, bloating/baby belling forming!
Belly Button in or out? In
What I miss: I miss not waking up multiple time a night to pee. Mostly because I can never fall back asleep right away and baby decides that since I'm up anyway, it's a good time to do some
somersaults
.
What I am looking forward to: Right now I'm looking forward to Andrew putting our crib together and I'm looking forward to our a/s on the 25th.
Upcoming appointments/events: Our next appointment is February 25th. 20 week appointment & a/s.
Weekly Wisdom: I'm not fat, I'm pregnant. I have to keep telling myself that. For some stupid reason I've really been having problems with this. Once I can feel our munchkin more often, maybe that will help.
Milestones: Feeling peanut once from the outside this week!



Our crib and mattress arrived! I'm so excited. So far I've unsuccessfully convinced Andrew to put the crib together. Working on it!