I promise I DID take a picture for week 9 and a little survey update but it is my luck that as of now, when I have time to sit down and write a blog, I CAN NOT find my card reader for my SLR! Luckily, we started to use my Sony Cybershot point and shoot camera ( Andrew wasn't having too much luck taking photos with the SLR ) so I do have my week 11 and week 12 photos so I will update that and I'll sneak the week 9 post in when I find my card reader. However, with the hectic rush of Christmas & than and energy crash before I got a tummy bug, I didn't get a week 10 picture, sorrrryyyy! I'm doing my best, my friends!
This week was awesome. I started to round out a little more ( could be a bad thing that it's happening this early, but I have a stubby short little torso, so I kind of expected it), & at 11 weeks 5 days, we got to see our baby for the first time. I went to my 12 week appointment. Everything went well and the midwife told me that I was really healthy and there was no reason to have an ultrasound until our gender/anatomy scan at 20 weeks. I'll be honest, I was a little bummed. I know they say the fewer ultrasounds you have the better but I wanted to see our little munchkin SO BADLY! I realize though that it was better that our baby was really healthy and that we didn't need one. As my midwife finished my appointment up she told me she was going to feel my uterus just to make sure that I was on track size wise. She felt it and did a couple of "Hmmm" 's and looked at me and said, how do you feel about an ultrasound today? I blurted out "UHHH SURE!". Apparently my uterus was feeling bigger than 12 weeks and she wanted to make sure there weren't TWO IN THERE. GREAT. Andrew was sitting off to the side giggling and laughing. My great grandmother was a twin, so when Andrew and I told my mother's side of the family that we were pregnant they were joking there would be twins. Luckily, we went into the ultrasound and there is ONLY ONE! My bladder was really full so my uterus was just sitting up higher in my belly. But we got to see our beautiful baby!!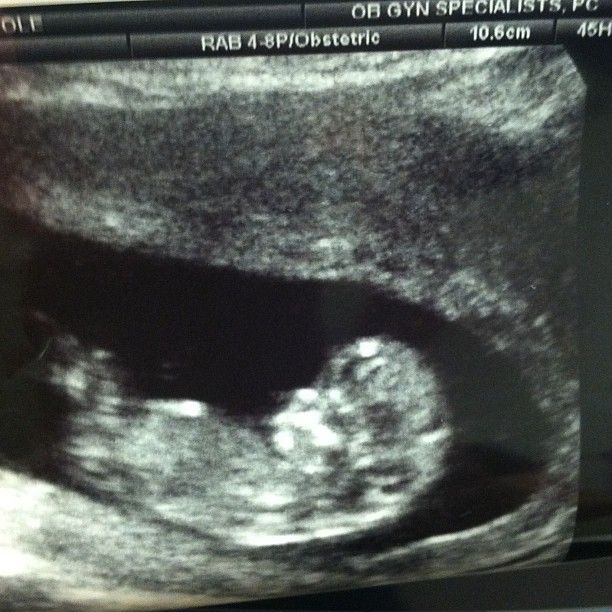 AND NOW....DUH DUH DUHHHHHHH! The 11 week bump photo, THERE IS ACTUALLY A BUMP! IT MIGHT BE BLOAT, BUT IT'S A BUMP! :)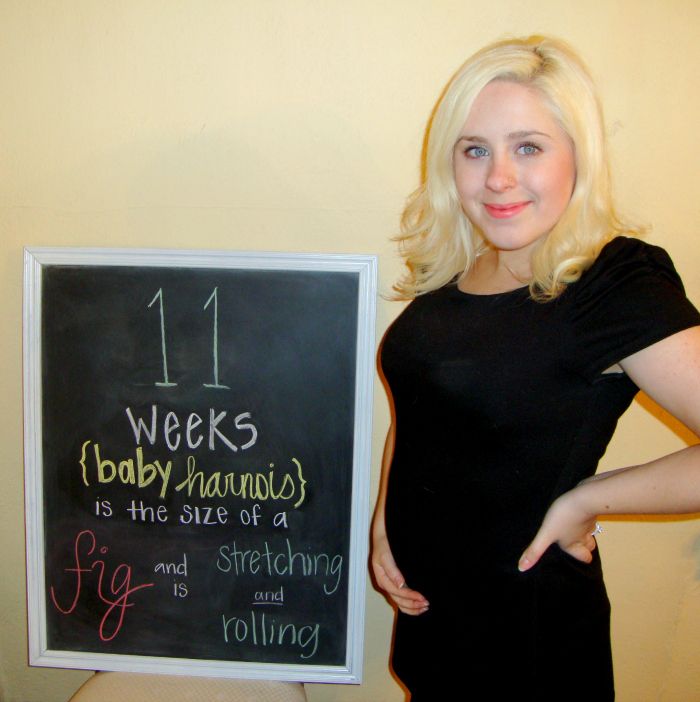 How far along? 11 weeks 6 days
How big is baby? Baby Harnois is the size of a lime! Baby is 1.6in inches big and .25 oz ! Your fetus currently enjoys a 1:1 ratio between body and head, and has skin so transparent that blood vessels show right through. But, fingers and toes are no longer webbed, and hair follicles, tooth buds and nail beds are forming -- setting up a significantly more attractive future
Maternity clothes? Andrew's step mom got me a maternity shirt and pants for Christmas.
Sleep: I was sick for about three days with the stomache flu at the beginning of week 11 so I didn't sleep well at night then and I slept all day, but now that I'm over it, I'm feeling so much better.
Best moment this week: Telling our families and seeing out baby! We went to our 12 week appointment today and they thought my uterus was measuring large and that there might be twins so they sent us for an ultrasound. Luckily, there was only one! It ended up being that my bladder was just really full but oh my god it was the most amazing thing to see our tiny little baby and watching him/her move around in my belly.
Movement: No movement yet, I think. I've felt poking in my right abdemon where baby is, but I don't think it's possible for me to actually be feeling anything yet.
Food cravings: Nothing, I've had to force myself to eat sine being sick!
Food Aversions: MEAT!
Gender: Not sure yet!
Labor Signs: None
Pregnancy Symptoms: Exaustion, frequent urination, tender breasts, bloating/baby belling forming.
Belly Button in or out? In
What I miss: Nothing really. However, it was weird being the only sober person at the New Years get together we went to.
What I am looking forward to: Preparing for baby, finding out the gender of our little munchkin. Holding our sweet baby in my arms.
Upcoming appointments/events: Our next appointment is January 28th.
Weekly Wisdom: Not really wisdom but I can't wait for the next 28 weeks to fly by!
Milestones: Hearing our babies heartbeat 169-171 BPM and seeing out little baby :)