Well, I'm caught up on my weeks, almost! We are 13 weeks right now so I will be updating this week, but it's finally on track at least! Now that I'm not having to back track with my posts (with the exception of Week 9) I will be posting some more posts, beyond the bump posts, when I have time.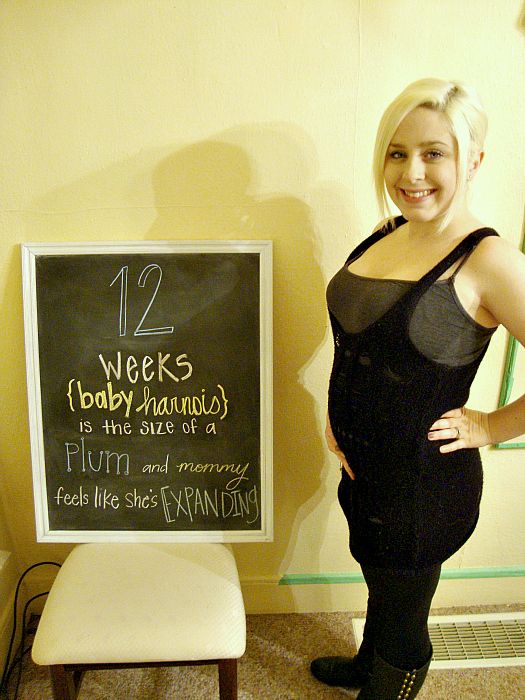 Sorry about the quality of the photo, we really need to start taking these photos in daylight! Hahahah.
How far along? 12 weeks 6 days
How big is baby? Baby Harnois is the size of a plum! Baby is 2.1in inches big and .49 oz !
Maternity clothes? No new maternity clothes at the moment. I am still fitting into my regular close easily, though my jeans have started to get a LITTLE tight.
Sleep: Pretty decent, or maybe I'm just getting used to it. I wake up about 2-3 times a night to pee, but I usually fall asleep fairly easily when I get back to bed.
Best moment this week: I'm feeling more pregnant? I'm not quite sure why, but I like it. Also, I swear that I'm feeling movement (not kicks or anything) but I know anyone who has been pregnant before will tell me I'm nuts. I've have just felt fluttering in my belly and it isn't gas, it feels different.
Movement: Meh.
Food cravings: Fruit. I did crave McDonalds tonight, but luckily that's the first time that has happened (and hopefully the last). Oh. Caffine Free Pepsi. I am not sure why, I wasn't much of a soda drinker before I was pregnant so I don't know why I want it now!
Food Aversions: Meat, though I can eat more of it now. I can handle fish and chicken, but that's about it.
Gender: We will find out the end of February, but I feel like it's a boy!
Labor Signs: None
Pregnancy Symptoms: Exaustion, frequent urination, bloating/baby belling forming, fluttery tummy.
Belly Button in or out? In
What I miss: Nothing. I'm too excited about this peanut to care at all about all the things I've given up on.
What I am looking forward to: Preparing for baby, finding out the gender of our little munchkin. Holding our sweet baby in my arms.
Upcoming appointments/events: Our next appointment is January 28th (16 week appointment).
Weekly Wisdom: Minimize! I'll make a post on this later.
Milestones: Just knowing this little person we've created is growing inside me is one of the best feelings in the entire world.